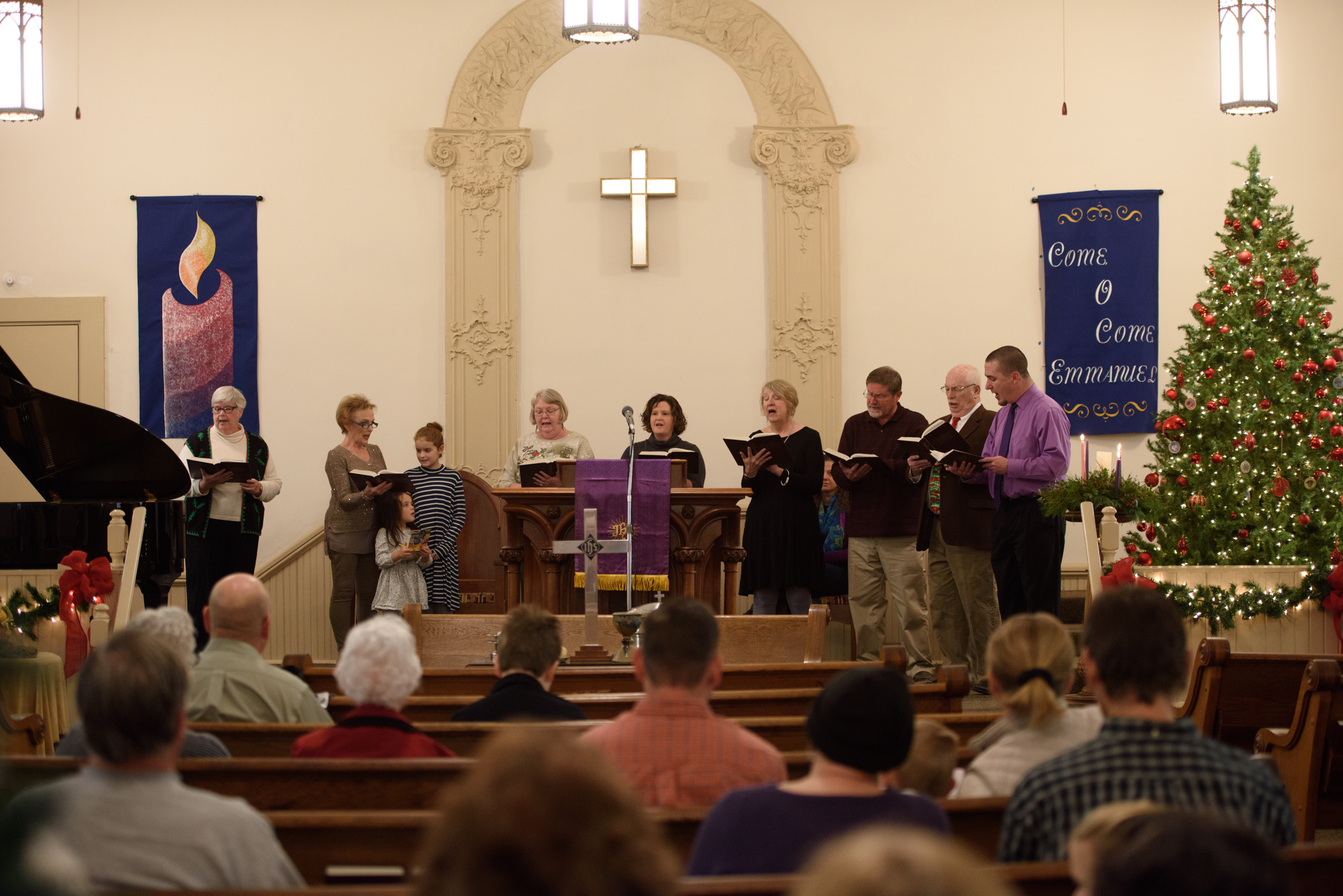 Join us for worship each Sunday at 11:00 a.m.
Our worship has an informal & reverent feel that includes hymns, scripture reading, prayer, a sermon, and weekly communion. You'll see people of all ages involved in worship leadership from Sunday to Sunday.
Dress is informal and we practice open communion, where anyone is welcome to participate in the time of communion regardless of church affiliation or background.
Traditionally, during the school year, children aged 2 years through 3rd grade are dismissed in the first part of the service for our Children Worship & Wonder program, staffed by adult and youth leaders, however this may be subject to change (more information can be found regarding this on our COVID-19 page).
You can enter the sanctuary through the double doors at the very front of our building (there is a ramp available at this entrance for accessibility).
Online Worship is Available!
On August 15, 2021, our congregation voted on worship safety protocol and precautions as we enter into yet another surge of the COVID-19 pandemic. You can view our full covid policy and recommendations/options on our COVID-19 page (linked here soon).
We encourage you to participate in worship by whichever method you feel safest. You can worship with us in person in the sanctuary or you can also participate in our services online every Sunday at 11:00 am through Zoom.
Interested in contributing to our mission?
We appreciate your financial support!
There are 3 ways you can contribute to Oxford Christian Church:
You can either set us up as a "bill-pay" through your online checking or mail a personal check to:
Oxford Christian Church
2785 Oxford Village Lane
Georgetown, KY 40324
You can bring your offering with you if you choose to worship with us in person!
If you choose to worship with us online, you can also offer a contribution to our mission of sharing the love of Jesus through your PayPal account by going to https://paypay.me/occoffering
(please note: you'll need a PayPal account to contribute through this link)